Welcome to the Inn at Sunset Cliffs located in historical Point Loma / Ocean Beach, California. We are one of only a few San Diego hotels truly located on the Pacific Ocean, just steps away from Ocean Beach. 3 minutes from Sea World San Diego. Originally built in the 1950's, with a 2018 update, the 24 room inn creates a tranquil and relaxing atmosphere to accommodate any San Diego visitor. Designed after Santorini, Greece. We have visited this wonderful island and have experienced, first hand the amazement. Inn at Sunset Cliffs is truly one of the only San Diego beach hotels that is actually a waterfront hotel.
Oceanfront suites with the sea breeze just outside your door. Sunset Cliffs creates scenic atmospheres all year long, with million-dollar views everyday. Being a quiet privately owned San Diego hotel, we support our locals and want to help our community. San Diego Beaches are near, being just a few blocks away from us. Experience the great San Diego surfing with an awesome location to scope where to ride for your session just a few steps away from your room. Wake up to the sounds of the waves crashing onto our property. Look out at the Pacific Ocean to see the beauty San Diego has to offer. When you feel like relaxing, our ocean view terrace allows you to view out over the horizon of the Pacific Ocean. Kick your feet up and let the waves take you away…
Plenty of amenities to ensure a relaxing stay.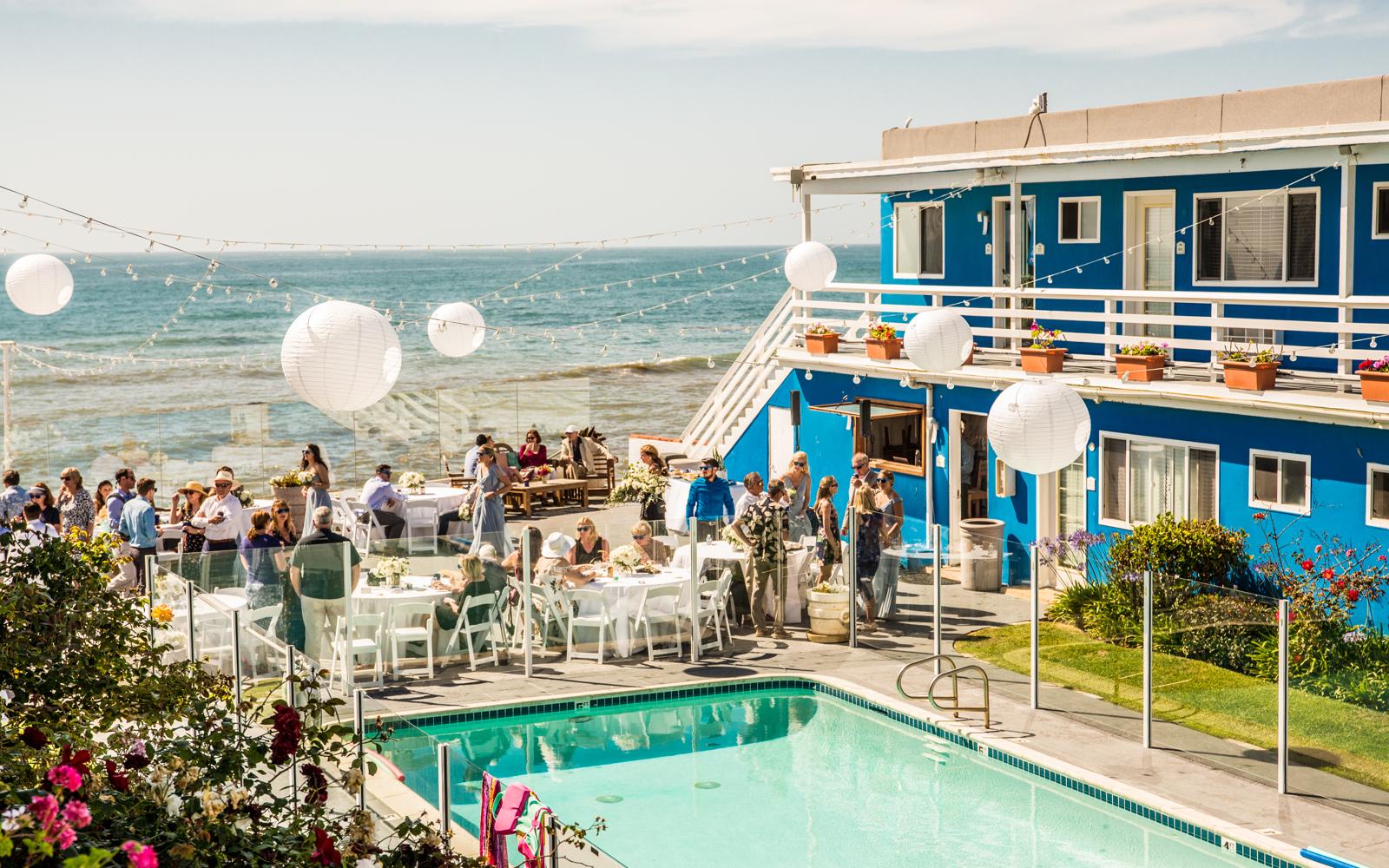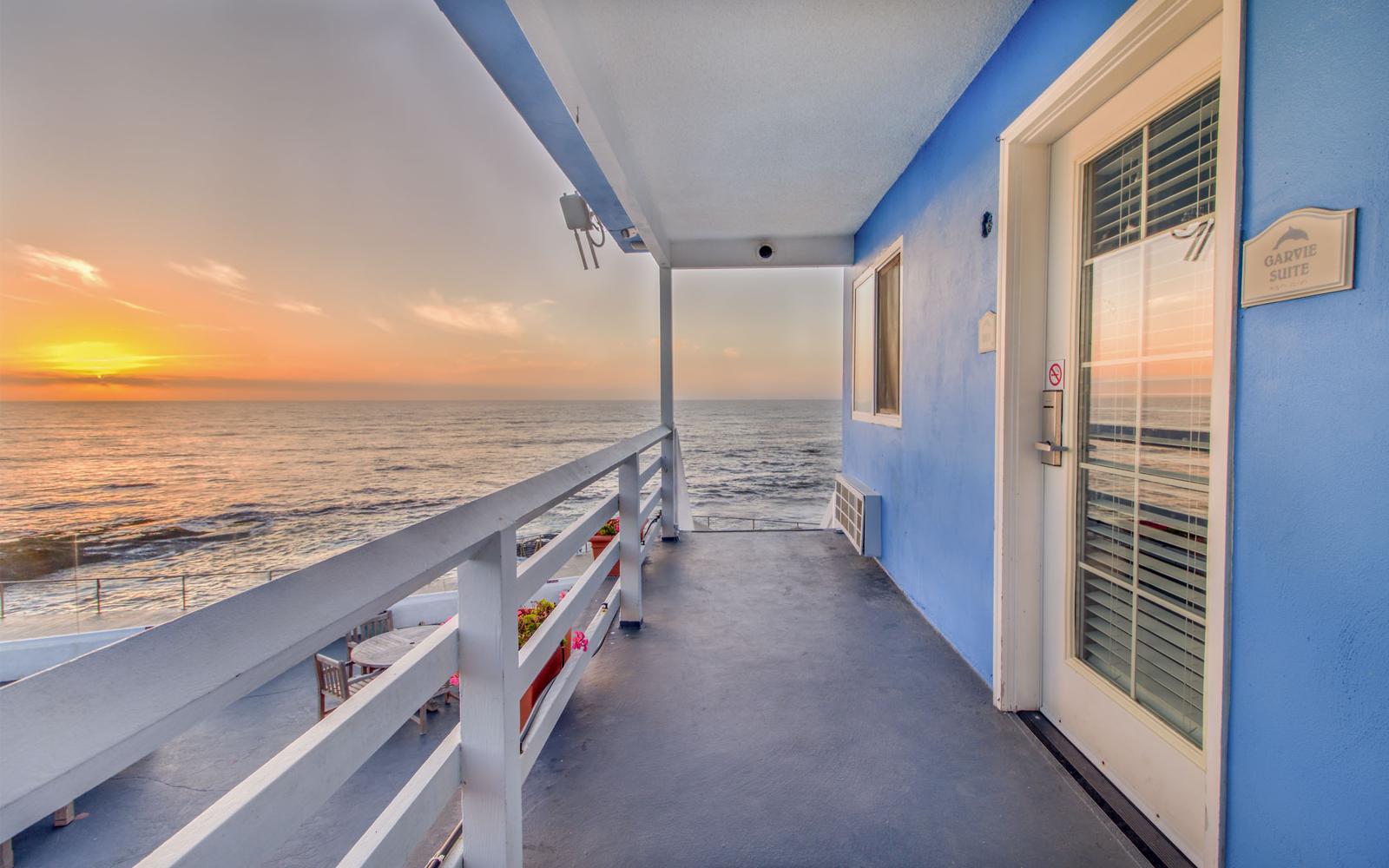 Courtyard & Swimming Pool
Enjoy our beautiful courtyard and heated swimming pool all year long.


Weddings & Events
We host weddings and other events. Please call us for more information.


Breathtaking Ocean Views
Panoramic 180-degree ocean views with the scenic Ocean Beach pier in the background.
Useful reviews from our guests on their experience with us.
I've stayed here a dozen times and I'm never disappointed. The cutest boutique hotel in San Diego away from the madness and right on the ocean. Great service, clean, cool little pool, mini golf and close to ocean beach.
This Inn has great location along the cliffs and is beautiful and special. It is lovely and small with a nice pool and beautiful comfortable outdoor seating overlooking the ocean. The staff is lovely and helpful.
We stayed here in April for a long weekend. We loved it!! Perfect location! You can walk a mile into Ocean Beach to the main area or walk up the road to Sunset Cliffs. Great views right out your door. Away from all the busy tourists. Great staff.
The site is the point. You are literally on the water with a deck area looking over the pacific. Pretty well cared for grounds. We stayed in a room looking over water. Very good but high bed. All amenities. Free parking.
I'm not one to write a review (good or bad) but this Hotel is deserving of one. The ocean view from our windows (kitchen & bedroom) was incredible and the waves were our sound machine at night! The kitchen had all the needed amenities including a full size fridge. The bathroom had a large shower with multiple shower heads.
My fiancé and I got married at the Inn at Sunset Cliffs this past weekend. The location here is unbeatable- the proximity to the ocean, walkability, and vintage charm make this place so special. Staff are kind and helpful, rooms are clean and updated. Comfortable beds, good amenities.